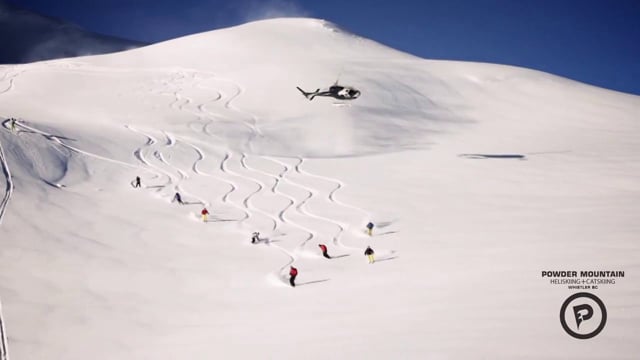 Powder Mountain Whistler Heli Skiing
Some of the west coasts most epic lines. Scenic and spectacular is how you would describe the waist deep pow that they serve up on a daily basis. Small helicopters for one day and more.  Read Interview With Powder Mountain Heliskiing Whistler With the heli-skiing tenure stretching from Vancouver to Whistler, there is always a fresh line for everyone, and with such a huge expanse they can find terrain for all abilities.
Standard Packages Offered
Offering three packages: beginner package is $795 Can. (4500-7500 vertical feet) for three runs; 5 run package is $995 (9000-15000 vertical feet).
Additional Information about Powder Mountain Whistler
Type of Helicopter: A-star. How guests arrive:Whistler is the base lodge, it is 1.5 hours from Vancouver. Year-round services:Whats a down day?  Powder Mountain Heli Skiing Whistler also offers Cat Skiing! Group/Lift Size:Four guests and one guide per lift. Closest Major Airport:Vancouver international airport YVR. Packages Include:Also available, Private A-star package is $7200. Price of Extra Vertical:$95 per run per person
Level of skiing/snowboarding required for first timers
Varied abilites welcome. Beginner right up to the extreme.  If you can ski your local mountain with confidence they have runs for you.
What is Unique/Why Us?
Having Whistler as our base lodge makes us unique.  You can bring your family to Whistler and while they go ride the mountain……..you can ride Powder Mountain.