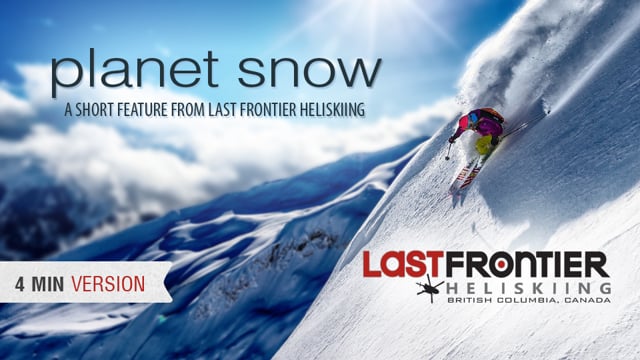 Last Frontier Heli Skiing Bell 2 Lodge
The Bell 2 Lodge is in Northwest BC, very close to Alaska.  Last Frontier Heli Skiing offers 3, 5 and 7 day packages at Bell 2 Lodge,  as well as Whistler combinations.   Also check out Last Frontier Heliskiing's Ripley Creek location for an Old West heli-skiing experience on the Alaskan border with great long glacier terrain.
Last Frontier Heli Skiing Terrain Description
British Columbia Skeena and Coast Mountains have tremendous variety.  Old growth forest provide great tree skiing within minutes of the Bell 2 Lodge.   Innumerable glaciers and high alpine features offer hundreds of linked turns on perfect pitches.    Any level of challenge can be found the the Last Frontier Heliskiing's massive terrain.
Standard Heli Skiing Packages Offered
7, 5, 4 day tours.
100,000 vertical feet for 7 days.
72,000 vertical feet for 5 days.
57,500 vertical feet for 4 days.
Additional Information
Price of Extra Vertical:CAD$ 46 per 1,000 vertical feet Guests per Lift: 4 guests, 1 guide Lifts per Helicopter: 3 Type of Helicopter:  A-Star B2 or B3 Private Packages Offered:  Single group of up to 4 pax or two groups of up to 10 pax (5 or 7 day) Down Days per Season:  Average is 5
Airport for Travel
Fly Vancouver to Smithers (YYD), where the Last Frontier Heli Skiing coach picks you up for the 4-5 hour ride to the Bell 2 Lodge.
Last Frontier Heli Skiing Bell 2 Lodge and Dining Description
Lodging is in log chalets in walking distance from the main lodge.  Every room has a wood-burning stove, two queen beds or one king bed.  The modern version of a log cabin is very comfortable and welcoming.
What is Unique/Why Last Frontier Heli Skiing Bell 2 Lodge?