Best Alaska Heliskiing in Valdez, Alaska?
I had the pleasure of meeting Scott Raynor and Mandy (marketing manager and Scott's handler) at the Hog Island Oyster Bar in San Francisco in December.   Scott has an impressive resume including avalanche expert, guide, ice climber, ski bum, fisherman (running a crab boat ala Deadliest Catch), Alaska heliskiing pioneer and now VHSG owner.  Mandy is also a bad betty from Utah.  Oysters, chowder, beer, tequila and a view of the Bay resulted in the following discussion.   Enjoy.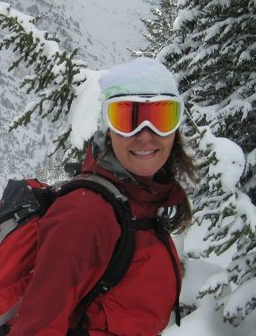 1.  Mandy, is hot.  She could be the best Alaska heliskiing rep.  Can you think of any reason our subscribers should call me instead of her??
You are more objective?
2.  VHSG built a cool new Alaska heliskiing lodge for 2013. Tell us about it, please.
Built in 2011, the new lodge is an 18,000-square-foot custom designed heli-ski lodge built on the footprint of the historic Tsaina Lodge. Perfectly staged in the heart of Thompson Pass, the Tsaina houses 32 guests in 16 single- and eight double rooms with private baths. The restaurant is phenomenal and, of course, the bar, reminiscent of the original, is always a great time. All of it, including a boot and gear drying room and fitness room, is just steps away from the VHSG heli-pad.  [Could be the best Alaska heliskiing lodge.]
VHSG New Alaska Heliskiing Lodge
3.  Does this mean VHSG is going soft, and catering to FGP clients???
Yes and no. The core of our Alaska heliskiing business continues to be geared toward the advanced and expert skier and rider. But one of the many beauties of the Chugach is that there is also a lot of terrain that is suitable for the advanced-intermediate skier and rider.
4.  Scott, you are one of the old timers in the Alaska Heliskiing business.   Will you summarize your heliski resume?
I started out as a self-employed backcountry ski touring guide in the western Chugach. For five years I combined this with snow safety work at events throughout Alaska. As the Alaska heli-ski industry evolved, I was lucky enough to be connected with some of the best heli skiing  companies. During my second year heli-ski guiding I became the VHSG operations manager and avalanche forecaster. Four years later, in 2000, I bought the company. I've also heli-ski guided internationally, in places like Chile, New Zealand and Greenland.
5.  VHSG is unique in how you organize your groups.  How do you run two helicopters and up to 24 guests?
Actually, we run three helicopters with up to 32 guests. We offer different package styles that determine which helicopter each client will be in: a public or private ship. The public ship is for up to 16 guests in four groups of four. We also offer the exclusivity of a private ship for groups of up to eight guests.
6.  Tell us about your location, and why you chose it.
It's really the location for the best heli-skiing in the Chugach. Located 35 miles inland in the heart of the range, our terrain gets hit with the coastal storms but also benefits from clearing skies of the interior. Our base at the Tsaina Lodge is just north of Thompson Pass and the clouds typically abate at this location. [Check out this video of the early days of Valdez heliskiing]

7.  Describe the Alaska heliskiing terrain, please.
We have an incredible variety of terrain at our fingertips, most of it heavily glaciated. There are steep mountain faces, large powder bowls, long couloirs and everything in between.  Alaska heliskiing has it all.
8.  How many days do you fly in an average week?
Five. We typically fly 80 percent of our season.
9.  You price it by runs, why?
It's a lot easier for the client to track.  [I resemble that!]

10.  What is the average vertical in a week that a guest can expect to heliski?
120,000
11.  What dates are you open in 2013?
We are open March 3 through April 27, 2013.
12.  Why is it that the snow 'sticks' to the steeps better in the Chugach/Valdez than other areas??
Typically our snow comes in warm and leaves cold, [ Like my old girlfriend….]the perfect recipe for snow sticking to all aspects of steep terrain. It's also a great recipe for good snow stability.
13.  Many BC heliskiers are intimidated by Alaska heliskiing.  Ski porn makes it look death-defying. Can the CMH and Wiegele clientele handle Alaskan heliskiing?
Yes they can. Ski movies and magazines always showcase the steepest of the steeps; it is the most dramatic. What they don't show is the vast, and equally spectacular, terrain that most heli-skiers enjoy in reality. A majority of our runs are just straightforward steep powder skiing. No cliffs, no jumping; just good, old-fashioned steep skiing fun!
14.  How about first time heliskiers?
First-timers are always welcome. A successful VHSG stay for a first-timer is not based so much on prior heli-ski experience as it is on his or her powder skiing skills. Guests need to be confident and capable of skiing in deep powder snow.
15.  Can we see more of Mandy?
Thanks, Scott!
tj